URBANIX, the real outdoor gym!
Proludic are pleased to announce the launch of its new outdoor fitness range URBANIX.
The Urbanix fitness range uses Urbanix' patented hydraulic system that can be set in 8 different positions, just like in a real gym allowing users of different fitness levels to exercise all of the main core muscle groups, as well as undertake cardio-vascular workouts.
This enables people of different fitness levels to exercise at their own pace and to progress the difficulty as their fitness improves. The bi-directional action function of the user-controlled patented piston provides for a full range of motion, allowing the muscles to extend and contract.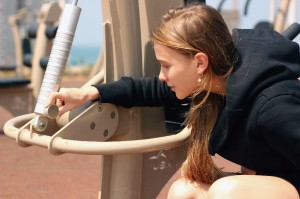 Advantages of using URBANIX include:
Real gym feel with a constant, controlled and progressive resistance
8 different levels of resistance ranging from 5-60 kilograms
Full body workout with 15 hydraulic, 5 cardio and 3 static items that target various muscle groups
Maximum safety thanks to a safe stop piston system, zero touch point, internal stoppers and controlled motion
Comfortable, user friendly Polysafe seats and handles
Superior build quality to provide a durable, safe and high value outdoor gym
Clear and concise signage utilizing QR code technology
Attracts both fitness enthusiasts and novices.
Independently certified for the Australian market
To browse the Urbanix catalogue click here.

To celebrate Proludic's launch of Urbanix we are offering units at very special promotional prices.
Contact us to see how we can help you design and install your next community outdoor fitness facility.